by guest author Pamela Rogers Melton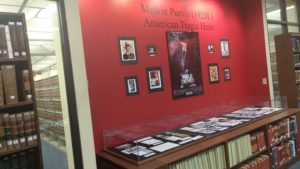 Melvin Horace Purvis. To many people today, the name means nothing. But it was not so long ago that Purvis was a household name, and over 260,000 boys and girls were digging through boxes of Post Toasties breakfast cereal to get their very own decoder rings and Junior G-Man badges.
Purvis, the Timmonsville native with the unassuming name, skyrocketed to fame in the 1930s as the leader of the FBI team that took down some of the biggest gangsters of his day, including John Dillinger, "Baby Face" Nelson and "Pretty Boy" Floyd.  At the height of his short career with the FBI, he was more popular and recognizable than J. Edgar Hoover, which was his undoing.
Learn about meteoric rise and fall of one of the most famous graduates of the USC School of Law in the South Carolina Legal History Room on the first floor of the Coleman Karesh Law Library.