Our study room reservation calendars are starting to look festive.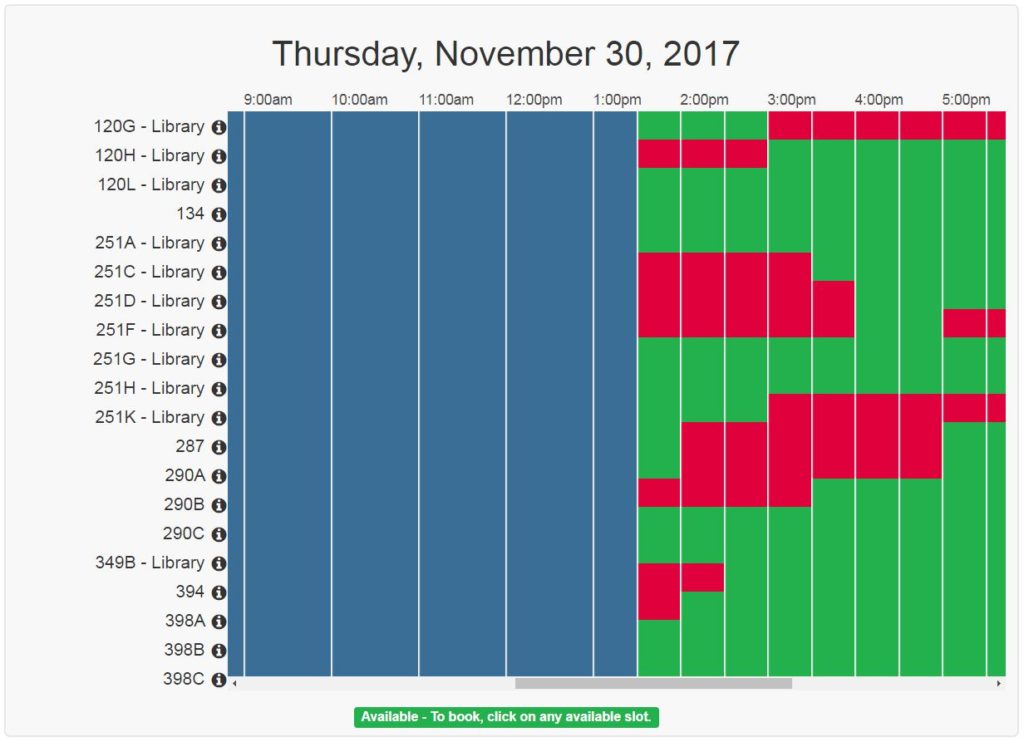 If you're going to need a study room, book now to avoid disappointment.
How do I reserve a study room?
Go to libcal.law.sc.edu. Alternatively, go to the law library's website, click on Quick Links, then click Reserve a Room.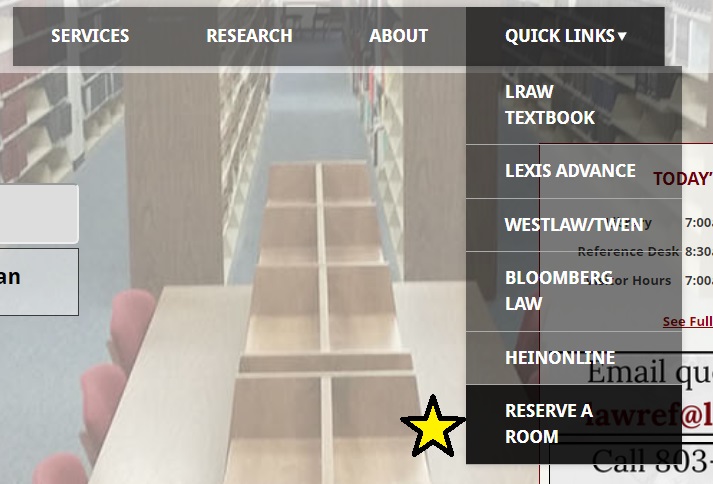 Click on Large Group Study Rooms or Small Group Study Rooms. To book small group study rooms, there must be a minimum of 2 law students. To book large group study rooms, there must be a minimum of 3 law students.

Click the calendar date for your reservation.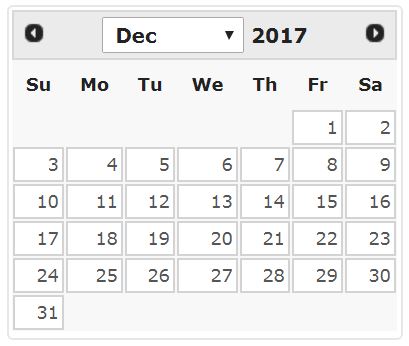 Select the room you want. Click the (i) next to a room number to see a photo of the room and details of its capacity.

Study rooms inside the library are marked "– Library," require that drinks are in spillproof containers and that no food is brought in, and are not available after the library closes (typically 11 pm or midnight during exams). For any study room, click on consecutive green half-hour slots, up to 3 hours per group per day maximum.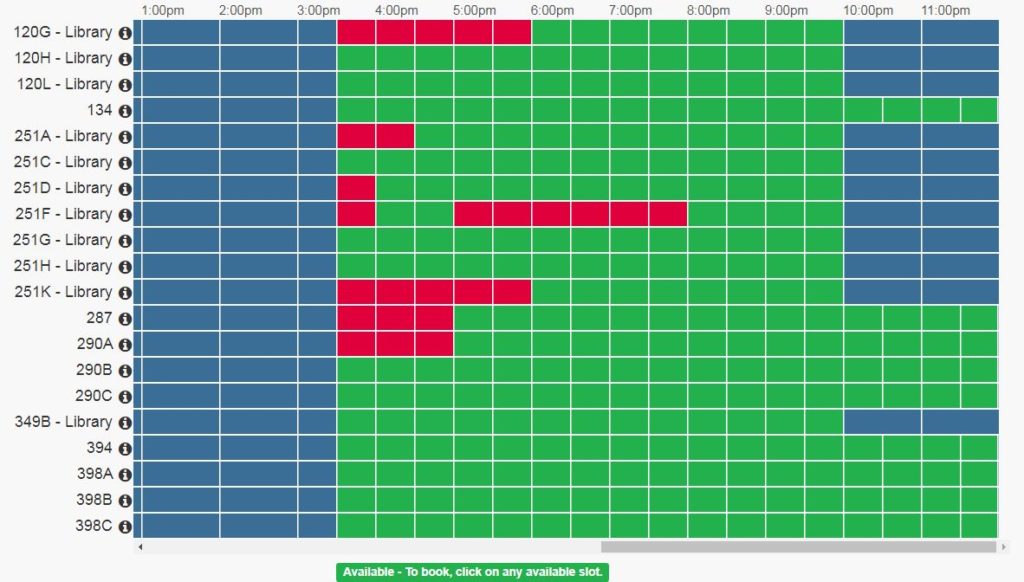 From there, follow the prompts to read our policies, submit names and emails of those reserving the room, and receive confirmation of the booking via email.
Can I just take the first room available, without reserving?
You are welcome to use an unoccupied study room without a reservation. However, if someone else has reserved it, you will have to leave. The odds of someone else having reserved any particular study room are higher this time of year, due to exams.
Can I leave my stuff in a study room for just a minute?
We ask that you not leave items unattended in a study room, due to the risk that items may become lost or stolen. Remember the law library is open to the public daily until 9 pm during exams. At a minimum, unattended or forgotten items may create a distraction for the next group using the room.
Could you please post your official, complete study-room policies as a block of fine print I could read? (I'm studying to become a lawyer.)
Our group study rooms may be reserved only by USC School of Law students, staff, and faculty. Exceptions may be made for educational purposes on a case-by-case basis and must be approved by library administration.
Bookings must be approved by Law Library circulation staff to ensure that all listed users are eligible to reserve the room. If your booking is made during the library's operating hours, please allow for up to one hour for a response. Any bookings made when the library is closed will receive a response when the library opens.
If you are unable to use the study room at your scheduled time, please be sure to cancel it at least 30 minutes before your booking starts, if possible. If a room that has an approved booking goes unoccupied after 30 minutes, that booking will be canceled.
You may reserve the room for three hours per day per group. Reservations must be for consecutive time slots or your reservation may be canceled i.e. you may not request every other 30 minute time slot over a six-hour span.
If no one has reserved the room after your time allotment, you may stay past the end of your booked time slot. If you decide to extend your booked time while you're in the room, please use this website to do so.
If there is any damage to the room, report it to the Law Library circulation desk immediately.  Failure to do so may result in you being charged for the damage.
If you have any questions about your booking, please speak to a staff member at the Law Library circulation desk, but please know that Law Library staff will not be responsible for mediating any conflicts between parties regarding bookings.
All rooms should be equipped with dry erase materials. If you need replacements, please see the Law Library circulation desk.
Please direct any questions or concerns about study room technology to IT at lawhelp@law.sc.edu.
These rooms do not lock, so please do not leave possessions unattended. The USC School of Law is not responsible for lost or stolen items.