Update: see photos of Library Fest 2016 in our Facebook photo album.
About Library Fest
Who: The library invites all law school faculty, staff, and students (especially 1Ls)
What: Library Fest 2016
When: Monday, September 12; drop in 12 noon to 2 pm
Where: first floor of Coleman Karesh Law Library
Why: to learn more about library and IT resources; to get to know each other; to take a short break on a Monday
Cake and Highlighters
Cake is for everyone!
Highlighters are for everyone!
Meet Vendors and Student Reps
Bloomberg, Lexis, and Westlaw account managers and/or student representatives will be in the library. See what they have to offer.
Prize Carts and 1L Carrel Lottery
If you pick up a self-guided library tour card as you enter the library and get it signed at all 4 stations in any order (Bookeye Scanner, IT, Legal History Room, and LRAW/study aids), then:
you get to pick a prize from the prize carts while supplies last, and
you may enter the 1L carrel lottery (if you're a 1L).
Prize carts contain t-shirts, tote bags, collapsible water bottles, notebooks, sticky notes, pens, desk toys, and more.
Check out the map of stations and prize carts: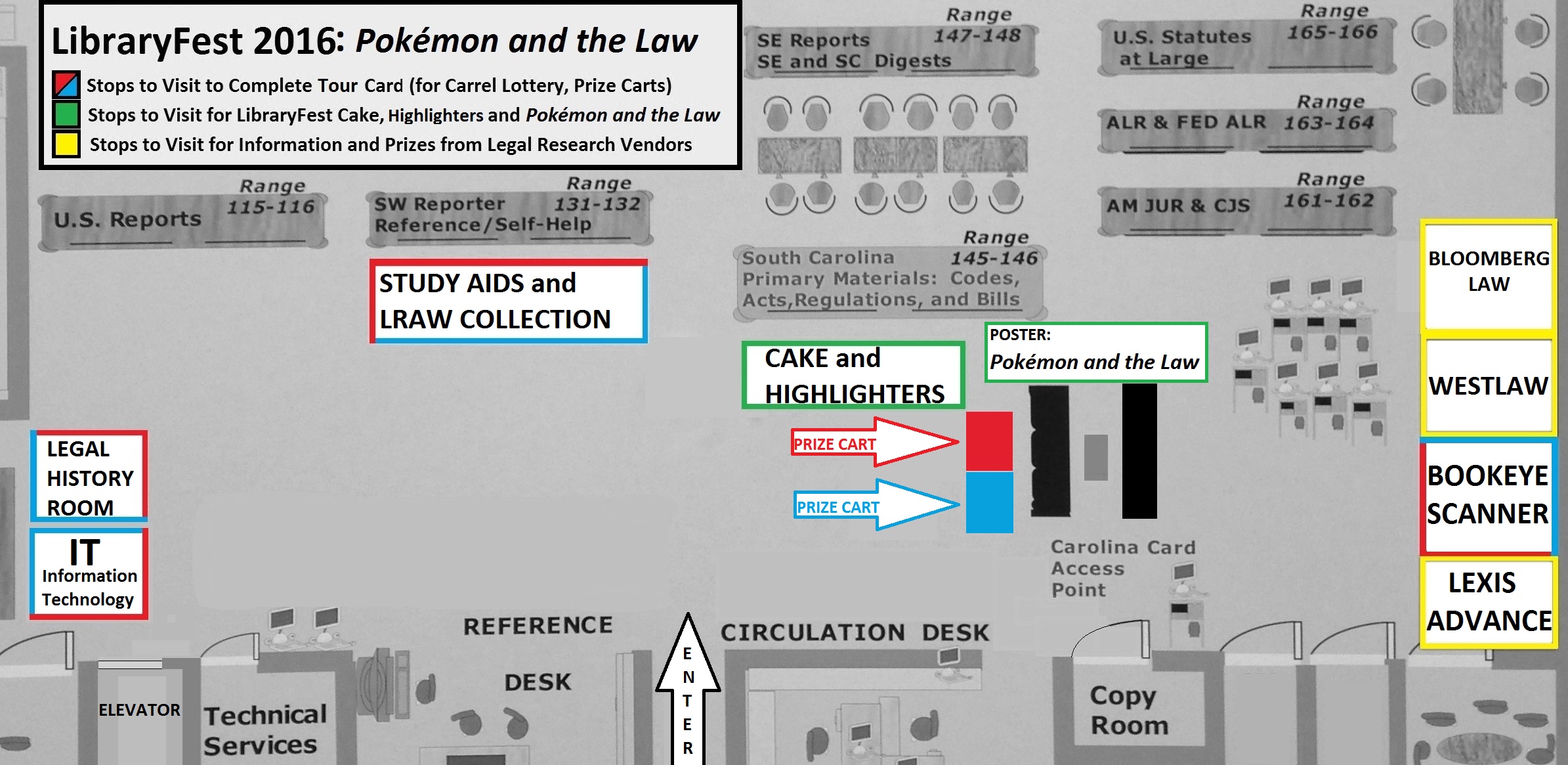 Pokémon Lure Modules
For every 10 people who sign in as attending Library Fest, the library will place 1 Pokémon lure module near the law school, not during class, on a date and time to be announced later via the library's social media (Facebook, Twitter, Instagram), for up to 20 lures / 200 attendees.
Look for the sign-in sheet: