Q: What do malware, big fish, and law school gatherings have in common?
A: Cybersecurity.
Malware: Wolters Kluwer / CCH Outage

Customers of Wolters Kluwer (WK) have been notified that malware was discovered on the WK network. The law library subscribes to more than 800 searchable databases through WK, primarily in the area of tax law, and has experienced an outage in this service.
According to an email sent by WK and received by the law library this morning, WK is "in the process of scanning, testing, and restoring each service and application. . . . In short, the service interruptions you have experienced are primarily the result of [WK's] aggressive, precautionary efforts to ensure the safety of your data. This is why at this time [WK is] confident that [they] see no indication of data loss or other effects, nor any potential risk to [their] customers' data."
The cybersecurity blog Krebs on Security has published and updated a post entitled What's Behind the Wolters Kluwer Tax Outage? The law firm librarian blog Dewey B. Strategic has published several posts on the outage and the process of bringing the service back online, including Wolters Kluwer Responds …  and Wolters Kluwer … Posts Online Guide to Track Restored Features.
Big Fish: Aaron Glenn Publishes Phishing Update for SC Lawyers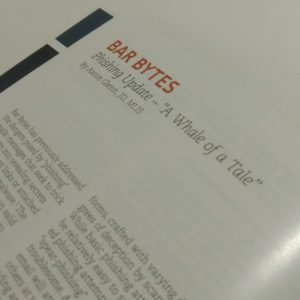 Reference librarian Aaron Glenn has written a guest "Bar Bytes" column on page 14 in the May 2019 issue of South Carolina Lawyer magazine, entitled Phishing Update – "A Whale of a Tale." The article's goal is to enable lawyers and all employees of law offices to spot email messages that are designed to "trick recipients into revealing secrets and clicking on links or attached files that contain malware."
The article is available free online. Also, the law library has several hard copies of the magazine near the circulation desk and at tables on the 3rd floor.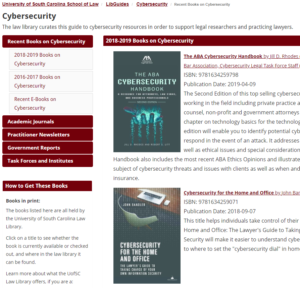 In the article, Professor Glenn encourages readers to explore the information and resources on the UofSC Law Library's cybersecurity guide. This research guide provides curated links to recent books, articles, and more, to suit the needs of practicing lawyers or of academic legal researchers who recognize the need to learn more about cybersecurity.
Law School Gatherings: UofSCLaw Cybersecurity Institute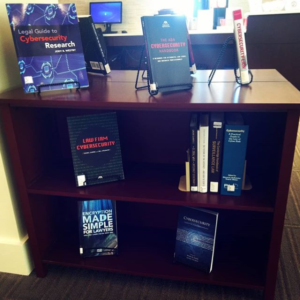 Highlights of South Carolina Law's first Cybersecurity Institute appear in the newsletter Cyberinsecurity News. The first Institute was held April 4, 2019 at the School of Law in partnership with the Federal Bureau of Investigation.
The write-up concludes with an assurance that South Carolina Law has already begun planning for the 2020 Cybersecurity Institute, which will again provide helpful, updated insights from government and private security experts.