by Dan Brackmann, guest author
This month's Resource Review is highlighting Constellate, a text analysis learning tool by JSTOR, Portico, and partners that the university has a three-year subscription to try out.  The primary purpose of Constellate is teaching people the techniques and methods of text analysis, from teaching the Python and R coding languages, to explaining different types of analysis, to using Jupyter Notebooks and other tools of the trade. Constellate provides a full page of tutorials as well as live webinars to help you learn. Constellate also comes with access to all of JSTOR's data, plus users can upload their own (within a size limit).  You can look over Constellate and all it offers here: https://constellate.org/.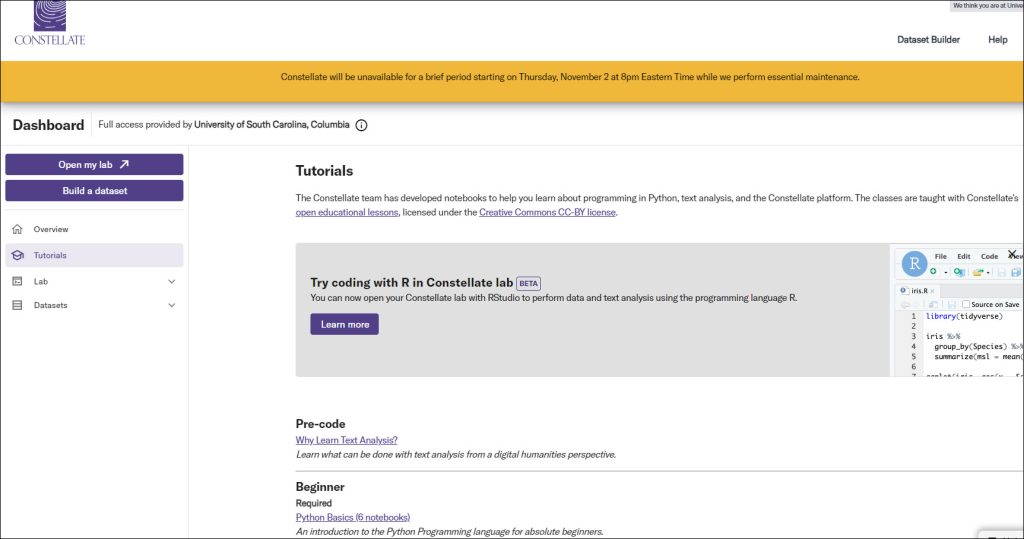 A couple quick notes:
To get set up in Constellate, you will need to make a JSTOR account as well as using your USC Open Athens credentials.
When making a JSTOR account, it requires your institutional affiliation. Use University of South Carolina, Columbia.
For more information or questions, contact your law librarians or Kate Boyd, Director of Digital Research Services at University Libraries.