By Guest Author Rebecca Plevel
Native American Heritage Month was first designated on August 3, 1990 by P.L. 101-343 when Congress authorized President George H.W. Bush to proclaim the month of November 1990, and thereafter as "Native American Indian Heritage Month."

Such actions have been taken by Congress and/or the President every year since.  Long before this first designation there have been many efforts by individuals, states, and the federal government to formally recognize the contributions that Native Americans have made in the establishment and growth of the United States.
Take this opportunity to learn and to celebrate the indigenous populations who were here before us, and who remain a vibrant part of our country and community.
Native peoples and communities have existed in what is now the United States and South Carolina for millennia. Do you know who was here before settlers from Europe and other places arrived in South Carolina?
Native-Land Digital provides an interactive map of the Indigenous peoples who were here.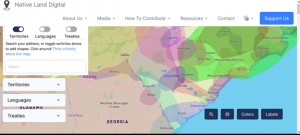 Native-Land is an app that helps map Indigenous territories, treaties, and languages all over the world.  This map does not represent or intend to represent official or legal boundaries of any Indigenous nations, but by mousing or clicking around on the map you can see the relevant territories in a location, and you will find that several links may appear with different nation names. By clicking on those links, you will be taken to a page specifically about that nation, language, or treaty, where you can find additional sources.
The South Carolina Commission on Minority Affairs, Native American Affairs Division maintains a current listing of Native American entities within the State of South Carolina. Today, there is one Federally recognized tribe in South Carolina, the Catawba Nation, nine State recognized Tribes, and seven other recognized tribal organizations.
The Catawba Nation was Federally recognized in 1993 when the Catawba Indian Claims Settlement Act was approved by the State of South Carolina, and by the U.S. Congress.  You can learn more about the history of the Catawba Nation by searching "Catawba" on the National Indian Law Library site, and in HeinOnline's Indigenous Peoples of the Americas: History, Culture & Law database.