By Rebecca Plevel, Guest Author
Access to justice begins with access to information.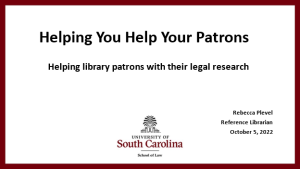 On Thursday October 6, 2022, I presented a session at the 2022 South Carolina Library Association (SCLA) conference – Libraries Take Action!
There is a huge justice gap in our country. Low-income Americans do not get help with more than 92% of their substantial civil legal problems.1 According to South Carolina Access to Justice Commission's report, in fiscal year 2019, 99.7% of defendants in eviction cases, 92.3% of defendants in foreclosure cases, and 96% of defendants in debt collection cases were unrepresented. South Carolina Legal Services must turn away on average per year, 2,000 callers asking for assistance.2
So where are members of our community going for help when they can't find an attorney? Their local libraries. The University of South Carolina Law School Library is one of only three law libraries in the state that are open to the public, the other two being the libraries of the South Carolina Supreme Court and Court of Appeals.  This drives most patrons from outside the Columbia metro area to their local county libraries.
What can local librarians do to assist these patrons? What can the UofSC Law Library do to help? Provide access to information!
During the presentation to about a dozen SCLA members, I presented databases, guides, and access points for information that is useful to unrepresented community members – to find the law, explain the law, to locate forms, and to even find legal help.3 This included physical resources, research guides, free internet resources, government sites, and legal services entities (the Slides are available on our Circuit Riders: Basic Legal Research guide on the Webinars & Presentations tab). We also briefly discussed the need to educate our patrons about digital/media literacy, critically evaluating the information found on the internet, and using credible sources.
Overall and based upon the feedback, it was a useful session for the attendees. And I got to meet new people – some wonderful librarians here in South Carolina.
---
1 Legal Services Corporation. The Justice Gap (2022), https://justicegap.lsc.gov/resource/executive-summary/
2 SC Access to Justice Commission. Measuring South Carolina's Justice Gap (2021). Available at https://www.scaccesstojustice.org/the-sc-justice-gap
3 Rebecca Plevel. Helping you Help your Patrons: Helping library patrons with their legal research (2022), PowerPoint slides. Available at https://guides.law.sc.edu/CircuitRiders/WebinarsPresentations