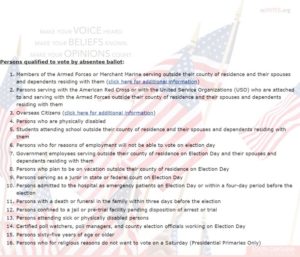 It sounds like a contradiction in terms, but "absentee in-person" really is what South Carolina calls its version of early voting.
A voter who has any one of the 16 listed reasons for not voting on the scheduled voting day can go in person to their county voter registration and elections office to pick up an absentee ballot, fill it out, and submit their vote ahead of time.
The locations of these offices, as well as additional satellite absentee voting offices that will be open additional hours as November 8 approaches, are on the SC Election Commission's website.