Do you have time to read a little for pleasure before school starts?
Check out the bestsellers in our popular collection, on the first floor between the public computers and the stairwell. These six are just a sample of the light reading we have to offer.
We've included the publishers' synopses below.
Paradise Valley by C.J. Box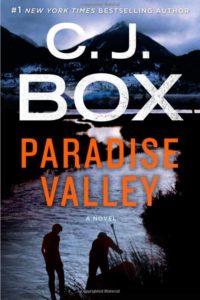 She almost caught him once. Now, he's back.
For three years, Investigator Cassie Dewell has been on a hunt for a serial killer known as the Lizard King whose hunting grounds are the highways and truck stops where runaways and prostitutes are most likely to vanish. Cassie almost caught him…once.
Working for the Bakken County, North Dakota sheriff's department, Cassie has set what she believes is the perfect trap and she has lured him and his truck to a depot. But the plan goes horribly wrong, and the blame falls on Cassie. Disgraced, she loses her job and investigation into her role is put into motion.
At the same time, Kyle Westergaard, a troubled kid whom Cassie has taken under her wing, has disappeared after telling people that he's going off on a long-planned adventure. Kyle's grandmother begs Cassie to find him and, with nothing else to do, Cassie agrees—all the while hunting the truck driver.
Now Cassie is a lone wolf. And in the same way that two streams converge into a river, Kyle's disappearance may have a more sinister meaning than anyone realizes. With no allies, no support, and only her own wits to rely on, Cassie must take down a killer who is as ruthless as he is cunning. But can she do it alone, without losing her own humanity or her own life?
The Power of Broke by Daymond John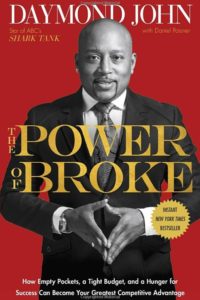 The instant New York Times bestseller from Shark Tank star and Fubu Founder Daymond John on why starting a business on a limited budget can be an entrepreneur's greatest competitive advantage.
Daymond John has been practicing the power of broke ever since he started selling his home-sewn t-shirts on the streets of Queens. With a $40 budget, Daymond had to strategize out-of-the-box ways to promote his products. Luckily, desperation breeds innovation, and so he hatched an idea for a creative campaign that eventually launched the FUBU brand into a $6 billion dollar global phenomenon.  But it might not have happened if he hadn't started out broke – with nothing but hope and a ferocious drive to succeed by any means possible.
Here, the FUBU founder and star of ABC's Shark Tank shows that, far from being a liability, broke can actually be your greatest competitive advantage as an entrepreneur. Why?  Because starting a business from broke forces you to think more creatively.  It forces you to use your resources more efficiently. It forces you to connect with your customers more authentically, and market your ideas more imaginatively. It forces you to be true to yourself, stay laser focused on your goals, and come up with those innovative solutions required to make a meaningful mark.
Drawing his own experiences as an entrepreneur and branding consultant, peeks behind-the scenes from the set of Shark Tank, and stories of dozens of other entrepreneurs who have hustled their way to wealth, John shows how we can all leverage the power of broke to phenomenal success. You'll meet:
· Steve Aoki, the electronic dance music (EDM) deejay who managed to parlay a series of $100 gigs into becoming a global superstar who has redefined the music industry
· Gigi Butler, a cleaning lady from Nashville who built cupcake empire on the back of a family  recipe, her maxed out credit cards, and a heaping dose of faith
· 11-year old Shark Tank guest Mo Bridges who stitched together a winning clothing line with just his grandma's sewing machine, a stash of loose fabric, and his unique sartorial flair
When your back is up against the wall, your bank account is empty, and creativity and passion are the only resources you can afford, success is your only option. Here you'll learn how to tap into that Power of Broke to scrape, hustle, and dream your way to the top.
Eyes Wide Open by Isaac Lidsky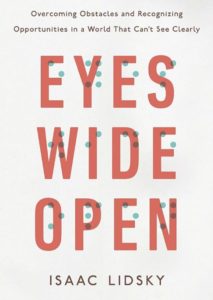 In this New York Times bestseller, Isaac Lidsky draws on his experience of achieving immense success, joy, and fulfillment while losing his sight to a blinding disease to show us that it isn't external circumstances, but how we perceive and respond to them, that governs our reality.
Fear has a tendency to give us tunnel vision—we fill the unknown with our worst imaginings and cling to what's familiar. But when confronted with new challenges, we need to think more broadly and adapt. When Isaac Lidsky learned that he was beginning to go blind at age thirteen, eventually losing his sight entirely by the time he was twenty-five, he initially thought that blindness would mean an end to his early success and his hopes for the future. Paradoxically, losing his sight gave him the vision to take responsibility for his reality and thrive. Lidsky graduated from Harvard College at age nineteen, served as a Supreme Court law clerk, fathered four children, and turned a failing construction subcontractor into a highly profitable business.
Whether we're blind or not, our vision is limited by our past experiences, biases, and emotions. Lidsky shows us how we can overcome paralyzing fears, avoid falling prey to our own assumptions and faulty leaps of logic, silence our inner critic, harness our strength, and live with open hearts and minds. In sharing his hard-won insights, Lidsky shows us how we too can confront life's trials with initiative, humor, and grace.
Born a Crime by Trevor Noah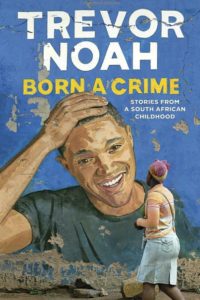 The compelling, inspiring, and comically sublime story of one man's coming-of-age, set during the twilight of apartheid and the tumultuous days of freedom that followed.
Trevor Noah's unlikely path from apartheid South Africa to the desk of The Daily Show began with a criminal act: his birth. Trevor was born to a white Swiss father and a black Xhosa mother at a time when such a union was punishable by five years in prison. Living proof of his parents' indiscretion, Trevor was kept mostly indoors for the earliest years of his life, bound by the extreme and often absurd measures his mother took to hide him from a government that could, at any moment, steal him away. Finally liberated by the end of South Africa's tyrannical white rule, Trevor and his mother set forth on a grand adventure, living openly and freely and embracing the opportunities won by a centuries-long struggle.
Born a Crime is the story of a mischievous young boy who grows into a restless young man as he struggles to find himself in a world where he was never supposed to exist. It is also the story of that young man's relationship with his fearless, rebellious, and fervently religious mother—his teammate, a woman determined to save her son from the cycle of poverty, violence, and abuse that would ultimately threaten her own life.
The stories collected here are by turns hilarious, dramatic, and deeply affecting. Whether subsisting on caterpillars for dinner during hard times, being thrown from a moving car during an attempted kidnapping, or just trying to survive the life-and-death pitfalls of dating in high school, Trevor illuminates his curious world with an incisive wit and unflinching honesty. His stories weave together to form a moving and searingly funny portrait of a boy making his way through a damaged world in a dangerous time, armed only with a keen sense of humor and a mother's unconventional, unconditional love.
Option B by Sheryl Sandberg and Adam Grant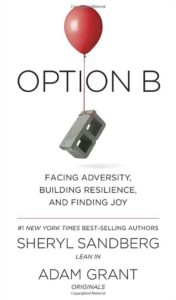 From Facebook's COO and Wharton's top-rated professor, the #1 New York Times best-selling authors of Lean In and Originals: a powerful, inspiring, and practical book about building resilience and moving forward after life's inevitable setbacks.
After the sudden death of her husband, Sheryl Sandberg felt certain that she and her children would never feel pure joy again. "I was in 'the void,'" she writes, "a vast emptiness that fills your heart and lungs and restricts your ability to think or even breathe." Her friend Adam Grant, a psychologist at Wharton, told her there are concrete steps people can take to recover and rebound from life-shattering experiences. We are not born with a fixed amount of resilience. It is a muscle that everyone can build.
Option B combines Sheryl's personal insights with Adam's eye-opening research on finding strength in the face of adversity. Beginning with the gut-wrenching moment when she finds her husband, Dave Goldberg, collapsed on a gym floor, Sheryl opens up her heart—and her journal—to describe the acute grief and isolation she felt in the wake of his death. But Option B goes beyond Sheryl's loss to explore how a broad range of people have overcome hardships including illness, job loss, sexual assault, natural disasters, and the violence of war. Their stories reveal the capacity of the human spirit to persevere . . . and to rediscover joy.
Resilience comes from deep within us and from support outside us. Even after the most devastating events, it is possible to grow by finding deeper meaning and gaining greater appreciation in our lives. Option B illuminates how to help others in crisis, develop compassion for ourselves, raise strong children, and create resilient families, communities, and workplaces. Many of these lessons can be applied to everyday struggles, allowing us to brave whatever lies ahead. Two weeks after losing her husband, Sheryl was preparing for a father-child activity. "I want Dave," she cried. Her friend replied, "Option A is not available," and then promised to help her make the most of Option B.
We all live some form of Option B. This book will help us all make the most of it.
All the Single Ladies by Rebecca Traister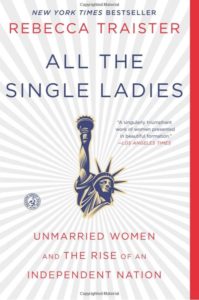 The New York Times bestselling investigation into the sexual, economic, and emotional lives of women is "an informative and thought-provoking book for anyone—not just the single ladies—who want to gain a greater understanding of this pivotal moment in the history of the United States" (The New York Times Book Review).
In 2009, award-winning journalist Rebecca Traister started All the Single Ladies about the twenty-first century phenomenon of the American single woman. It was the year the proportion of American women who were married dropped below fifty percent; and the median age of first marriages, which had remained between twenty and twenty-two years old for nearly a century (1890–1980), had risen dramatically to twenty-seven.
But over the course of her vast research and more than a hundred interviews with academics and social scientists and prominent single women, Traister discovered a startling truth: the phenomenon of the single woman in America is not a new one. And historically, when women were given options beyond early heterosexual marriage, the results were massive social change—temperance, abolition, secondary education, and more. Today, only twenty percent of Americans are married by age twenty-nine, compared to nearly sixty percent in 1960.
All the Single Ladies is a remarkable portrait of contemporary American life and how we got here, covering class, race, sexual orientation, and filled with vivid anecdotes from fascinating contemporary and historical figures through the lens of the unmarried American woman.