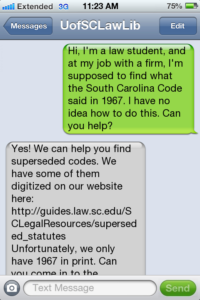 The law library is proud to announce that the same reference services that have long been available by phone, by email, and in person at the reference desk are now also available via online chat on our website, as well as by text to 803-219-2529.
We hope law students will find chat and text to be convenient ways to interact with the law library.
How to Use our Chat
When you see the "Chat now with a reference librarian" indicator on our website, you may click on it to begin a chat.

Then a widget will pop up. Type in the lower portion of the widget to chat, and press Enter to send your message to the librarian. The librarian's response will appear as part of a conversation with you in the upper portion of the widget. The chat software also allows you to send a file to the librarian, or to email a transcript of the chat to yourself.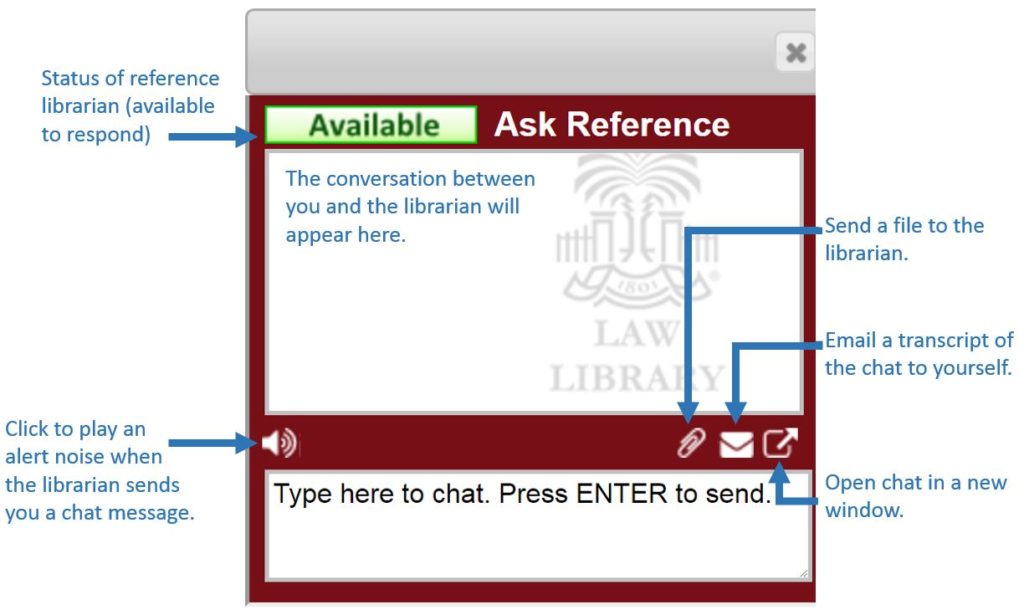 Hours of Chat Availability
Reference chat is only available during our standard reference hours, Monday through Friday 8:30 am to 5:00 pm, on days when the library is open. Because at times the reference librarian may be responding to multiple needs, chat may be temporarily unavailable during reference hours. During busy times and off-hours, online patrons will be advised that email may be the best way to contact us, so that we can reply as soon as we are able. Our email address is lawref@law.sc.edu.

Reporting Noise Issues via Chat
The circulation desk also has an online chat component available through our website for reporting noise issues in the library. The same caveat applies as to the chat function occasionally being unavailable when circulation librarians attend to other duties, and at that point phone reporting is recommended.