The law library supports Career Week by spotlighting career guidebooks to help law students in their transition toward legal careers.
Many of the career guidebooks listed in the law library's catalog are located in the Career Services Office (in the Student Services Suite on the first floor of the law school, not in the library), although a few of the guidebooks are in the law library. Any given book's location will be indicated in the catalog.

If you don't see the type of career guidebook you're looking for in the examples below, search the catalog, or ask a librarian.
Criminal Law (Prosecution or Defense)
Career as a Criminal Lawyer by the Institute for Career Research is an e-book. It lists the attractive and unattractive features of a career in criminal law, and contains blurbs from criminal lawyers of all types explaining in plain English what they do and how they arrived where they are.
International Practice
by Salli Anne Swartz
Published by the ABA Section of International Law, the 4th edition (2012) of Careers in International Law contains standalone chapters in which one international lawyer after another describes their unique career path. It includes chapters on solo, in-house, transactional, and many other types of international law, including a chapter on how to get started now, leveraging law school toward an international career.
Judicial Clerkships
In Chambers: a Guide for Judicial Clerks and Externs, a 2012 text by Jennifer Sheppard contains practical, on-the-job advice for judicial clerks, as well as a chapter on applying for clerkships.
Practice Area Overviews
by R. L. Hermann
18 slim volumes, all published in 2017, each detail a different area of legal career opportunities. These areas of opportunity are not the focus of many other guidebooks, because these practice areas rely on brand-new technology, or because they are a very recent modern twist on a traditional practice, or because they are often categorized as "alternative" careers for holders of law degrees.
Private Practice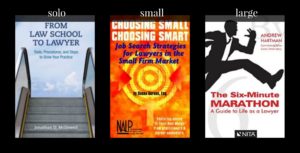 The private practice experience can be very different depending on the size of the firm. Here are our most recent guide books that are specific to solo, small firm, and large firm practice.
Resumes and Cover Letters
by Jo Ellen Dardick Lewis
"The book starts by focusing on audience and purpose, like all effective legal writing. Students are encouraged to think about their professional goals by completing a questionnaire and to work with career advisors to fine-tune their resumes and cover letters for specific internships.
Each chapter includes:
1) the purpose of a specific section of a resume or cover letter;
2) a step-by-step guide to drafting that section;
3) annotated 'before and after' student samples; and
4) a checklist.
The student sample resumes are divided into groups based on years of work experience before law school and the sample cover letters are grouped by the level of connection a student has to the potential employer.
The book includes chapters on writing samples, requesting references and recommendation letters, and job prospecting and networking tips." -Carolina Academic Press