More powerful than New Year's resolutions, state laws often have an effective date of January 1. An overview of these laws across the United States, including a special focus on North Carolina, can be found in a recent blog post by the J. Michael Goodson Law Library at Duke University School of Law.
Inspired by our neighbors to the north, we present a short guide to South Carolina's legislation effective January 1, 2018.
News about SC Laws effective January 1
The State newspaper summarized several provisions effective January 1, 2018. But the news article provides a link to only one of the relevant acts: Act 40 of 2017 that relates to the state's gas tax and a few other taxes and fees.
Full Text of SC Laws effective January 1
To find the full text of other South Carolina legislation summarized in the article, you could go to scstatehouse.gov, click Ratifications & Acts, click 2017 Act Lists, then click Effective Date to see a list of all acts enacted into law in the 2017 legislative session, in order of effective date. Oddly, at first glance, the latest effective date listed appears to be November 19, 2017.
Acts with Multiple Effective Dates
Taking a closer look, at the top of the list is a group of 13 acts with "multiple effective dates or other special circumstances." Their effective dates are listed only as "See Act," meaning that you'll need to click on each act number to read the full text of the act to determine which provisions of that act become effective on what dates.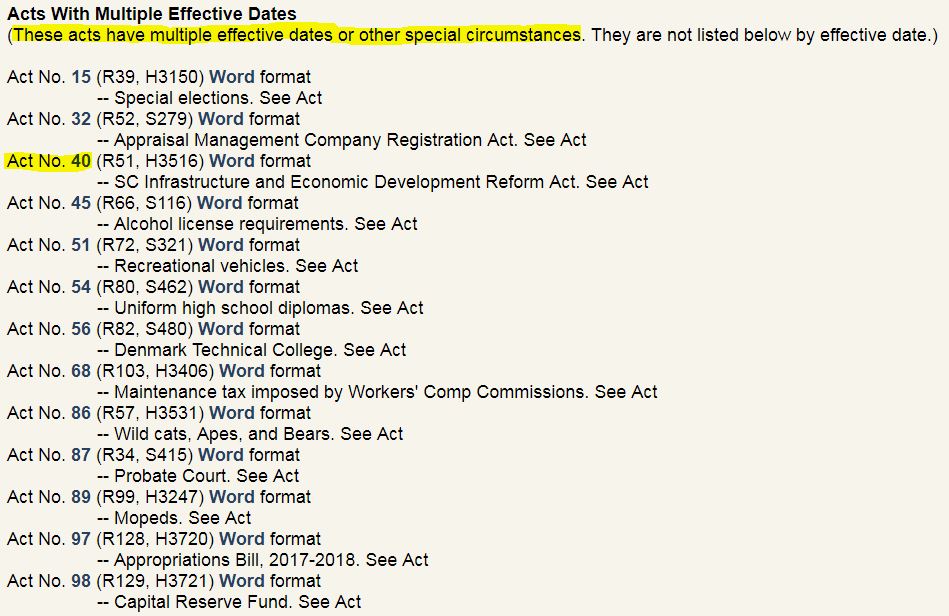 Act 40 of 2017 (Gas Tax)
Act 40 of 2017 is listed as one of the "Acts With Multiple Effective Dates." The State mentions several provisions of Act 40 in its article about laws effective January 1. These provisions relate to:
a new gas-tax credit,
vehicle registration fees,
the college tuition tax deduction,
the earned-income tax credit, and
the property tax rate for manufacturers.
Act 15 (Elections) and Act 86 (Exotic Pets)
The State only references two more laws that have provisions effective January 1:
Acts 15 and 86 have multiple effective dates, according to the 2017 Acts List on scstatehouse.gov. So again, it would be necessary to read the full text of each act to understand how the January 1 effective date operates on only part of the act.
The Remaining 2017 Acts with Multiple Effective Dates
That leaves 10 acts with multiple effective dates ("or other special circumstances") that aren't mentioned in The State's article. Why not? Is January 1, 2018 not one of the dates that any of their provisions are scheduled to go into effect? Or some other reason, perhaps that they were not of general interest to the newspaper's readership?
We leave it as an exercise for the interested reader to determine which, if any, of the provisions in these 10 acts became effective January 1, 2018. We're kidding, of course. Take a glance, and estimate how long it would take to figure that out.
Now does your reading for your law school classes look easier by comparison? Happy New Year from your law library!