by Dan Brackmann, guest author
Textual analysis is a research method rapidly gaining popularity in many different academic disciplines. Text analysis is a subset of data mining, using computational methods to study natural languages as unstructured data sets, allowing researchers to explore connections between words and topics and uncover patterns, trends, or relationships within the content.
University Libraries provides support for all USC faculty wanting to learn more about how to use text analysis in their research. A good starting point for learning more is the University Libraries LibGuide at: https://guides.library.sc.edu/c.php?g=1341033&p=9886260.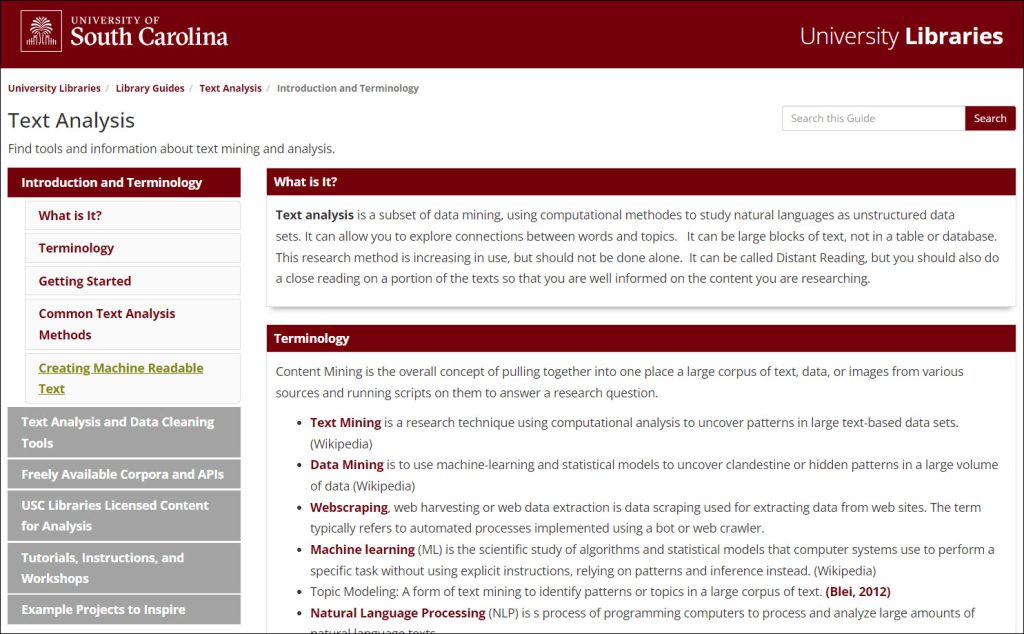 The LibGuide offers guidance on terminology and how to approach textual analysis projects.  It also links to various tutorials, APIs, and text resources available to USC faculty interested in pursuing this kind of research.  Additionally, scholars interested in text analysis methodology or the tools available from USC can get assistance from University Libraries.  For more information or questions, contact Kate Boyd, Director of Digital Research Services at University Libraries.
Next month, the Resource Review will cover Constellate, one of the text analysis learning resources provided by University Libraries.