by guest author Dan Brackmann
As the 2020 election hurtles towards us, HeinOnline has released a timely subcollection of Electoral College materials in its U.S. Presidential Library.  The subcollection includes hearings, committee prints, CRS and GAO reports, books, treatises and more on the Electoral College, explaining it, exploring it, and criticizing it throughout its history.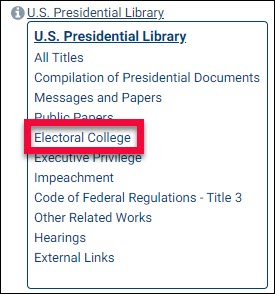 To access the subcollection, navigate to HeinOnline via the library web page, locate the U.S. Presidential Library in the list, and select the Electoral College subcollection. Browse the materials or use HeinOnline's advanced search tools to perform targeted searching. (Make sure to select Electoral College as the document type.)
Some examples of the subcollection's contents include:
Congressional hearings from the 91st Congress on constitutional changes to reform the Electoral College.
Contemporary analysis and perspectives on a contingent election if no candidate gets enough Electoral College votes.
Documents relating to other election issues, including election security and barriers to voting.

Read more about it at: https://home.heinonline.org/blog/2020/10/new-addition-electoral-college/