By, Rebecca Plevel, guest author
In celebration of Women's History Month this year, I wanted to learn more about and highlight one of South Carolina's own women.  This endeavor led me to learn about a number of women who have done great things in their lives including supporting civil rights, advancing the legal profession, and the representing communities of South Carolina. One of those women has been in the news a lot lately and graduated from law school the same year I did – a continent apart, and what feels like a world away.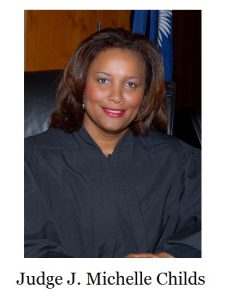 J. Michelle Childs graduated from the University of South Carolina Law School in 1991, also earning a Master of Arts degree in personnel and employment relations at the same time.
She was interviewed for the Law school's Alumni Spotlight in 2020, and provided some discerning thoughts about law school and the practice of law, particularly "[y]our classmates will be on opposing sides in cases or matters and will be leaders in various firms, agencies, and organizations in the state so you always want to be known for having good character as your reputation can affect your ability to resolve matters entrusted to you."  How true this is.
Before being elected as a Circuit Judge in Richland County, Judge Childs worked as an associate attorney at Nexsen Pruet, LLC for 8 years.  In 2000, she was named a partner at the firm — the first Black woman to become partner at a South Carolina law firm.  This, in a legal industry long dominated by white men. She specialized in employment law matters, representing employers and employees.
Judge Childs left private practice when she was appointed as the Deputy Director of the Division of Labor, South Carolina Department of Labor, Licensing, and Regulation.  She spent 2 years in that position and was then appointed as a Commissioner for the Workers' Compensation Commission, a quasi-judicial administrative body, hearing workers' compensation claims.  In 2006 she was elected by the state legislature as a Judge for the South Carolina Circuit Court, Fifth Judicial Circuit. During her time on the South Carolina bench, Judge Childs became chief administrative judge of the criminal court and piloted a special business court program.
In 2009, Judge Childs was nominated by President Obama to fill the seat on the U.S. Federal District Court for the District of South Carolina vacated by Judge G. Ross Anderson, who took senior status.  Judge Childs was confirmed by the Senate on a voice vote in August 2010. In her time on the Federal District Court, Judge Childs has ruled on a variety of cases, including Bradacs v. Haley, a 2014 case where Judge Childs ruled in favor of two women who sued because the state of South Carolina would not recognize their same-sex marriage performed in Washington, D.C. (a year before Obergefell).  She also ruled against the South Carolina State Election Commission in striking down a witness requirement for absentee voting during the height of the pandemic, in Middleton v. Andino.  This ruling was eventually overturned by the U.S. Supreme Court.
In addition to her law practice and judicial duties, Judge Childs has served with a number of boards and law related entities, including being a member of the American Law Institute, on the Board of Trustees of the ETV Endowment of South Carolina, a board member for the South Carolina Bar Foundation, and a member of the Columbia Urban League Board of Directors.
On January 10, 2022, President Biden nominated Judge Childs as United States Circuit Judge for the District of Columbia Circuit.  This nomination has not been set for hearing as of yet, due to the potential nomination to the Supreme Court, which we know now went to another fantastic woman lawyer and judge.
On a personal level, I found Judge Childs to be genuine, to care a great deal about her community, and her profession.  One of the humanizing stories I found was about her winning the Miss Black Florida beauty pageant while an undergraduate at the University of South Florida.  Her win led to what she later told a South Carolina legislative committee was her first lawsuit. As she put it, "The pageant director reneged on prizes so I sued him." And she won!
References:
Gavin Broady. The Ardent Ambassador: Judge J. Michelle Childs. Law360. Aug. 19, 2014 (subscription required) https://www.law360.com/articles/568468/the-ardent-ambassador-judge-j-michelle-childs (last visited Mar. 8, 2022)
Devin Dwyer.  Labor issues complicate Judge J. Michelle Childs' Supreme Court candidacy. ABC News, February 14, 2022. https://abcnews.go.com/Politics/labor-issues-complicate-judge-michelle-childs-supreme-court/story?id=82809387  (last visited Mar. 8, 2022)
Federal Judicial Center. https://www.fjc.gov/history/judges/childs-julianna-michelle (last visited Mar. 8, 2022)
Quint Forgey. J. Michelle Childs: Who is she? Bio, facts, background and political views. Politico. Feb. 23, 2022. https://www.politico.com/news/2022/02/23/who-is-j-michelle-childs-bio-facts-background-political-views-00007234 (last visited Mar. 8, 2022)
Nina Totenberg. Judge Michelle Childs, whose early life was shaped by gun violence, is on SCOTUS list. February 16, 2022. NPR https://www.npr.org/2022/02/16/1080229310/judge-michelle-childs-supreme-court-nomination-process (last visited Mar. 8, 2022)
PN1671 – Nomination of Julianna Michelle Childs for The Judiciary, 117th Congress (2021-2022), PN1671, 117th Cong. (2022), https://www.congress.gov/nomination/117th-congress/1671 (last visited Mar. 9, 2022)
U.S. Senate.  S.Hrg. 111-927 — NOMINATIONS HEARING OF U.S. CIRCUIT AND U.S. DISTRICT JUDGES (2022), https://www.congress.gov/event/111th-congress/senate-event/LC5424/text (last visited Mar. 9, 2022)
University of South Carolina Law School, Alumni Spotlight, 2020 https://www.sc.edu/study/colleges_schools/law/alumni/get_informed/news/2020/michelle_childs_qa.php (last visited Mar. 8, 2022)
The White House.  President Biden Nominates Ketanji Brown Jackson to serve on the U.S. Supreme Court.  Feb. 25, 2022. https://www.whitehouse.gov/kbj/ (last visited Mar. 9, 2022)
Wikipedia. J. Michelle Childs. https://en.wikipedia.org/wiki/J._Michelle_Childs (last visited Mar. 8, 2022)